Inter-American Development Bank recognizes CEMEX with the Juscelino Kubitschek Award of Merit for Regional Development in Latin America and the Caribbean
Inter-American Development Bank recognizes CEMEX with the Juscelino Kubitschek Award of Merit for Regional Development in Latin America and the Caribbean
---
The Inter-American Development bank has awarded CEMEX with the Special Mention for Corporate Social Responsibility of the Juscelino Kubitschek Award of Merit for Regional Development in Latin America and the Caribbean.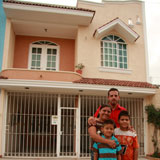 The Award, created by the IDB in 2009, recognizes the contribution of regional institutions to the region's development in two categories: economy and finance; and social, cultural, and scientific development. This year, 337 organisms from 26 Latin American, Caribbean, and European countries participated.
This recognition was given after careful examination of the company's programs by the Evaluation Committee. Among the programs for which CEMEX was given this award are Patrimonio Hoy, Centros Productivos de Autoempleo (Productive Self-Employment Centers), CEMEX Cerca de Ti (CEMEX Close to You), and CEMEX Vivienda (CEMEX Housing). Through these programs, which deal with community development, preservation of the environment, business ethics, and quality of life, CEMEX has benefited over 5 million people during the past 11 years.
The Award was given by the IDB's President Luis Alberto Moreno to Martha Herrera, Communications and Social Responsibility Director for CEMEX, during the organization's yearly meeting taking place in Montevideo, Uruguay.
CEMEX, throughout its global operations, engages in an ongoing dialogue in order to better understand the needs and concerns of the communities in which it operates. Such continuous dialogue allows the company to leverage its core business strengths, including its institutional knowledge and experience, its employees' talent and time, and its social investments, to support the social and economic development of those communities.
Contactos para información de CEMEX Latam Holdings: