Port Sandino highway in Nicaragua to be constructed with CEMEX specialty ready-mix concrete
---
Port Sandino Highway in Nicaragua will be the first highway for heavy tourism traffic to be constructed with concrete paving. Two stretches of the highway totaling over 16 kilometers are being constructed with CEMEX' specialty ready-mix concrete.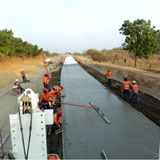 CEMEX will supply and pour 26,600 m³ of concrete for the project. Using concrete instead of traditional asphalt for the construction guarantees a longer lifespan for the highway as well as reduced maintenance costs and a number of other short and long-term benefits.
Concrete pavements, compared to those built with asphalt, offer many benefits including greater durability, reduced life cycle costs, reduced temperature, and increased road safety. Due to its rigidity, concrete paving offers significantly less resistance for a vehicle's wheels to roll. Consequently, concrete paving requires lower fuel consumption for vehicles traveling faster than 30 km/h, compared to a flexible pavement such as asphalt. On any roadway where concrete is used, higher the traffic volumes generate greater savings in fuel consumption.
At a global level, CEMEX does not "simply manufacture concrete", but develops solutions based on the thorough knowledge and application of concrete technology. Leveraging years of experience, a worldwide pool of knowledge, and state-of-the-art expertise about the different concrete constituents and their interaction, CEMEX offers its customers "concrete by design"—tailor-designed concrete.
Contactos para información de CEMEX Latam Holdings: