CEMEX provides integral building solutions for expansion of Tocumen International Airport in Panama
---
CEMEX is playing a major role in one of the most important infrastructure projects in Panama, the expansion of Tocumen International Airport. CEMEX is part of a US$66 million project that entails the construction of a new North Terminal including runways, taxiways, and an administrative building, among others.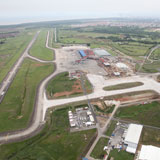 The project's contractor, Consorcio Aerotocumen, has selected CEMEX to provide all ready-mix concrete for pavement. The first phase of the project will require 40,000 cubic meters of concrete. In addition to being a supplier of materials, CEMEX is also in charge of the paving. This is a major step in the efforts of CEMEX in Panama to go beyond being a building materials supplier and become a provider of integral building solutions.
"CEMEX is very proud to participate in this project that will represent a great benefit for the citizens of Panamá. At CEMEX we are constantly looking to provide tailor-made solutions for major infrastructure projects," says Ramón Pizá, President of CEMEX in Panama.
The paving will be divided into two phases, with the first one currently underway. Taxiways are used for planes to move from one part of the airport to another, while platforms are used to park planes for passenger loading and unloading. The placing of pavement requires strict quality control and disciplined execution.
Work began in July 2010 and is currently above 60% completion, with full completion expected in the following four months. This project shows CEMEX's focus on going above and beyond in providing high quality and tailor made building solutions for its customers worldwide.
Contactos para información de CEMEX Latam Holdings: