Caracolito cement plant achieves record production for CEMEX in Colombia
---
August 2010 was the most successful month in the history of CEMEX's Caracolito plant in Colombia. For the first time in the plant's 14-year history, both of its cement kilns operated continuously for the entire month, achieving 48 days and 55 days of non-stop production, respectively.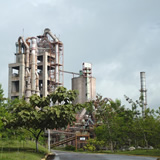 In addition, August was one more month without a single lost-time injury (LTI) at the Caracolito plant. The plant has yet to have a single LTI in 2010, a testament to its employees' efforts to adhere to the strictest safety standards fostered by CEMEX.
"I am very proud of the Caracolito plant reaching this historic record of continuous operation during 2010, joining the Cucuta Plant, which in March of this year reached 55 days of continuous operation," says Cesar Constain, President of CEMEX in Colombia. "This is a reflection of the quality with which we perform our jobs."
CEMEX began operations in Colombia in 1996 after a series of strategic acquisitions, and is currently a leading building materials company with presence in all of the country's major markets.
Contactos para información de CEMEX Latam Holdings: