CLH provides building solutions for low-income housing project in Colombia
---
On May 20, in Cúcuta, Colombia, former Housing Minister Germán Vargas Lleras and CEMEX Latam Holdings (CLH) presented 71 low-income housing units. These are the first of 1,500 homes the company will build in the city during the following ten months. Present at the event was CLH CEO Carlos Jacks alongside local authorities and government representatives.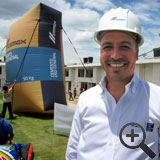 This is the initial phase of a 100,000 unit low-income housing initiative from the government of President Juan Manuel Santos, who seeks to generate employment and reduce poverty levels. During this phase around 570 people have been benefitted by the program.
To reduce construction costs and ensure that the homes were completed on time and with the highest quality, CLH used an industrialized building system using concrete walls and plaques with metal frameworks. By using this modern system the company was able to guarantee efficiency in worksite controls, precise dimensions of all homes, and perfect finishes. During the event Minister Vargas Lleras highlighted CLH's speed, efficiency, and quality in facing the challenge to participate in the 100,000 homes project.
CEMEX Latam Holdings is a regional leader in the building solutions industry that provides high-quality products and reliable service to customers and communities in Colombia, Panama, Costa Rica, Nicaragua, El Salvador, Guatemala, and Brazil. CEMEX Latam Holdings aims to serve the needs of its customers and create value for stakeholders by becoming the most efficient and innovative building solutions company in the region.
CEMEX Latam Holdings Contact Information: