Media Center
Browse press releases, downloads, among other resources.
CEMEX in Colombia has summer of sports with members of the community
---
During the summer of 2010, CEMEX in Colombia has demonstrated its commitment with the people of the communities around its operations. Through three different initiatives, the company has donated fields and equipment to foster sports and recreation and promote a culture of respect and teamwork.
During June, July, and August the following events have taken place, demonstrating CEMEX in Colombia's desire to give the people of its communities the tools they need to build a better future.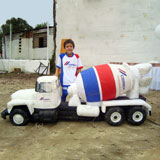 Upgrades to soccer field at CEMEX Sports School
On August, the company made important upgrades to its soccer field at the CEMEX Sports School located near the city of Medellin. The field was outfitted with stands for spectators, surrounded with a mesh fence, leveled to improve game conditions, and had drainage installed to avoid flooding. The school benefits 120 children and its representative team placed second in prestigious national youth soccer tournaments during 2009. Currently CEMEX has sports schools in the cities of Cúcuta, Bucaramanga, Ibagué, La Calera, Cali, Medellín, Cartagena, and Apulo.
Artificial grass soccer fields donated to Tunjuelo community
In July, CEMEX inaugurated three artificial turf soccer fields near the Tunjuelo mine in South Bogota. The fields will serve as recreational spaces for neighboring communities. The CEMEX Soccer Tournament 2010 will begin in September and will feature 32 teams with players representing the community, local companies, civil defense, and others.
CEMEX organizes bike ride and donates bicycles in Bogota
In June, the company organized a bicycle ride from that began at the CEMEX Community Center and ended at the Barrio La Aurora Parish. CEMEX donates 20 bicycles to the community so they can continue taking advantage of the scenic bike route. Several other rides have taken place since the inaugural event.
"I went with my husband and children and found the ride very interesting and well organized. We shared a nice time together as a family, and we would like to do it again," says Diana Parra, one of the riders.
CEMEX in Colombia will continue to organize events for members of the communities around its operations and remains committed to improving the quality of life of neighbors, clients, employees and suppliers. These sports-related events in Colombia highlight CEMEX global commitment to work with its communities as part of its Sustainable Development Strategy.
CEMEX Latam Holdings Contact Information: