CEMEX restores one of the main avenues in Costa Rica using innovative turnkey solution
---
CEMEX recently completed the restoration of 2,500 m² of Avenue 3 in San Jose, Costa Rica replacing traditional asphalt with ready-mix concrete. Using concrete instead of asphalt for the construction guarantees a longer lifespan for the avenue as well as reduced maintenance costs and a number of other short and long-term benefits.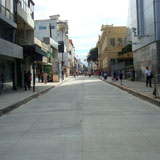 Concrete pavements, compared to those built with asphalt, have greater durability, reduced life cycle costs, reduced temperature, and increased road safety. On any roadway where concrete is used, higher the traffic volumes generate greater savings in fuel consumption.
"It has been an honor for us to participate in this project which not only improves the urban area of San Jose, but also generates environmental benefits and creates longer-lasting roadways", says Roberto Pongutá, CEMEX President in Costa Rica.
This project was undertaken using a turnkey modality, in which CEMEX goes beyond providing building materials and participates in the actual construction of different structures. CEMEX completed the project a month early.
In each market and locality in which CEMEX operates the company provides its customers with the most compelling integrated building solutions. CEMEX suits its customers' needs by providing them not only with high quality and tailor-made products, but also with the most reliable and cost-efficient service.
CEMEX Latam Holdings Contact Information: