CEMEX Develops Floating Concrete Island to Revitalize Mangrove Shorelines
---
Ingenious solution designed in collaboration with APTUM Architecture and Syracuse University uses CEMEX specialty concretes to revitalize mangrove forests while simultaneously preventing flooding in urban areas.
At first glance, mangrove forests are just shrubs and small trees that grow on tropical coastlines, but despite their deceptively simple appearance, mangrove forests are a fascinating form of vegetation. Adapted to harsh living conditions, these plants create homes for many migratory birds and sea life, and are also adept carbon sequesters, taking C02 out of the atmosphere. On coastlines they act as one of the most effective barriers against wind and coastal erosion and thus even help prevent flooding, as the video above explains.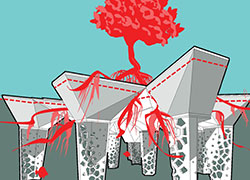 Despite their essential place in the ecosystem, more than 35% of mangrove forests have been lost due to factors including pollution, natural disasters, population pressure and changes in land use. Urban growth contributes to the devastation of the shoreline, leading to vegetation and habitat loss as well as flooding. At CEMEX we are committed to addressing the challenges of urbanization, so in the summer of 2015, experts from CEMEX Research Group AG once again got together with design firm APTUM, faculty at Syracuse School of Architecture, to discuss ways in which concrete could contribute to resilient urbanization in coastal areas. Consequently, the project decided to focus on arresting the depletion of mangroves through a symbiotic relationship between concrete and nature.
"We took inspiration from the rhizolith: a root system encased in mineral matter that is created through processes of erosion and cementation that protects and strengthens the natural composition of the earth," said Syracuse Architecture professors Roger Hubeli and Julie Larsen, partners at APTUM. "So our proposal for Isla Rhizolith is a breakwater system comprised of 'root-like' concrete elements and planted mangroves that, when set floating upon the water, act as both an artificial and natural rhizolith," they add.
CEMEX Develops Floating Concrete Island to Revitalize Mangrove Shorelines The Rhizolith Island consists of a mosaic of floating concrete structures with a "head" and a "fin" that functions as a seed carrier for mangroves. The head was crafted with a CEMEX lightweight concrete – lighter than water, so it would float despite the holes that puncture the structure's design. These holes effectively dissipate water force during storm surges, thereby countering coastal erosion. The fin, which was designed to function as a marine habitat, offering shelter for fish and surfaces for barnacles, was cast in a CEMEX high-strength, ductile concrete. In this way, the Rhizolith Island offers a solution for mangrove restoration—helping to reduce erosion of shorelines and preventing flooding—and for the restoration of life vital to coastal ecosystems.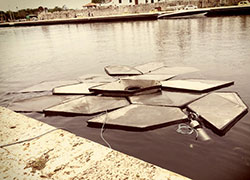 While more traditional engineering projects have applied concrete technology to protect shorelines in the past, the Rhizolith Island stands apart because it was designed to allow for a synthesis with the surrounding ecology. Within 5-10 years, it is expected that the increasing sedimentation will restore the shorelines and embrace the concrete structures; the mangroves growing on them will anchor in the newly deposited soil. "As the mangroves grow, their roots and weight will completely break through the concrete and take over to become a permanent, natural buffer to soak up water and reduce flooding during storms," said the architects. "The structure's broken down remains will promote the growth of coral reefs."
"We are developing a solution that adapts to and is part of the behavior of nature, rather than resists it," said Davide Zampini, Head of CEMEX Research Group AG. "Through the Rhizolith Island, we are taking a novel approach to address urbanization—the construction of building solutions that embrace, as well as strengthen, a symbiotic relationship with nature. The conceptualization of cities will harness the resiliency that nature offers."
The Rhizolith Island project was tested in Cartagena, Colombia, where a prototype was built and exhibited during the Concrete Reunion 2016 Conference. The data acquired is offering input for the construction of prototypes that will be tested further as the research continues at two additional locations in Colombia.
CEMEX is a global building materials company that provides high quality products and reliable service to customers and communities in more than 50 countries. Celebrating its 110th anniversary, CEMEX has a rich history of improving the well-being of those it serves through innovative building solutions, efficiency advancements, and efforts to promote a sustainable future.
CEMEX Latam Holdings Contact Information: