CEMEX begins supplying over 500,000 tons of cement for major expansion of the Panama Canal
---
CEMEX has begun supplying cement as part of its contract to provide over 500 thousand tons of cement to "Consorcio Grupo Unidos por el Canal", the primary contractor for the Panama Canal expansion project. The CEMEX contract represents an integral phase of the Canal expansion project, which includes two locks, the excavation of access channels to the new locks and the widening and deepening of navigational channels.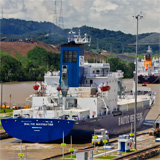 During the next 38 months, beginning in January 2011 and lasting until February 2014, CEMEX will have a constant flow of building materials going 24 hours a day, seven days a week, to assist in the construction of the third set of locks of the Panama Canal expansion project in the Pacific. The company will provide specially designed products for the engineering requirements of the Panama Canal expansion project.
CEMEX won this supply contract after competing with local and international companies vying for it. The company was chosen because of its production capacity, record of timely materials delivery, and the high quality of its products. Over the past two years, CEMEX has invested approximately $300 million in its Panamanian operations, including its plant where it has tripled its cement production capacity. Additionally, a new fleet of cement transport trucks was acquired specifically to comply with the demanding supply requirements of the Panama Canal contract.
CEMEX is constantly aiming to be the supplier of choice for major infrastructure projects around the world. The company's customers use infrastructure and urban applications to connect communities by means of highways, bridges, airports, and other public works.
CEMEX Latam Holdings Contact Information: