CEMEX upgrades fleet of ready- mix concrete trucks in Nicaragua to strengthen best-in-class customer service
CEMEX upgrades fleet of ready- mix concrete trucks in Nicaragua to strengthen best-in-class customer service
---
CEMEX has invested over US$400,000 to upgrade its fleet of read-mix concrete trucks in Nicaragua. The new fleet was unveiled at the work site for the future offices of the Program for Judicial Strengthening and Access to Justice, for which CEMEX will be providing specialty hydraulic concrete.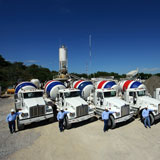 The mixers are equipped with state-of-the-art technology, including load distribution that will help preserve roadways in Nicaragua. This new equipment will help CEMEX meet rising demand in the country.
The company signed an agreement to provide 26,000 m3of ready-mix concrete for Port Sandino highway. It was also concrete provider for the runway of Bilwi International Airport, department head of the North Atlantic Autonomous Region. Additionally, CEMEX is providing hydraulic concrete for the repaving of roads in almost every district of the capital city of Managua under the Annual Investment Plant of the Mayor's office, among other infrastructure projects.
"We are investing in Nicaragua because it is part of our aggressive commercial strategy of fostering strategic alliances with our local stakeholders," says Andres Jimenez, CEMEX President in Nicaragua.
CEMEX is committed to providing its customers with the most reliable and comprehensive array of building materials.
CEMEX Latam Holdings Contact Information: