Media Center
Browse press releases, downloads, among other resources.
Colombian chapter of World Business Council for Sustainable Development highlights CEMEX achievements
Colombian chapter of World Business Council for Sustainable Development highlights CEMEX achievements
---
The Colombian chapter of the World Business Council for Sustainable Development has distinguished CEMEX as a case study in its latest publication, titled "Changing the Course 2010, Sustainability Cases in Colombia". The publication mentions CEMEX as a company that complies with the three parameters for sustainability: economic growth, social progress, and ecological balance.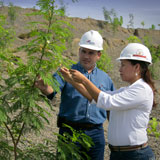 The case study mentions three successful CEMEX initiatives for sustainable development being implemented in Colombia: its Clean Development Mechanism to replace fossil fuels with biomass, the carbon footprint Tool, and its work towards responsible land management:
CEMEX's UN-approved Clean Development Mechanism project substitutes fossil fuels with biomasses such as rice husks. In the past five years, the company has increased its use of alternative fuels fourfold, reaching 20% of its cement plants' total fuel consumption in 2010.
CEMEX's carbon footprint tool- the first of its kind in the building materials industry- allows the company to measure the greenhouse gases emissions of its cement, ready-mix and aggregates products. The footprint tool considers a cradle-to-gate approach, from raw material sourcing to product manufacturing, providing significant assistance to customers in the building sector in calculating the carbon footprint of their projects.
CEMEX has a multifaceted land management strategy at a global level. In Colombia, the company donated 6,000 acres of land from a former quarry to the National Park Service in late 2010. The land was annexed to Chingaza National Natural Park, located an hour from the capital city of Bogota and a crucial part of the country's ecosystem. The park provides drinking water for nearly 11 million people in central Colombia and is home to numerous rare plant and animal species.
By working together with key stakeholders, CEMEX is committed to having a positive, sustainable impact upon the world.
The full publication (available only in Spanish) can be found here:
http://cecodes.org.co/descargas/publicaciones/cecodes_2010_baja.pdf
CEMEX Latam Holdings Contact Information: