Media Center
Browse press releases, downloads, among other resources.
CEMEX Supports the Rehabilitation of a Public Space in Panama´s Capital
---
In a collaboration with the Mayor's office, CEMEX's special architectural concrete supported improved accessibility for the renewed space.
Every day our cities become more congested as people move to urban centers at high rates. This provides a challenge for urban planners, who are tasked with maintaining cities vibrant in the face of urbanization. CEMEX looks to be a part of the solution, offering the products, solutions and expertise that will support cities and people for years to come. In Panama's capital city, our recent agreement with the mayor's office aims to do just that.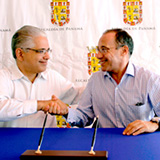 As part of the cooperation agreement, which is part of a new program in the capital with the approval of the Ministry of Public Works, CEMEX supplied materials and labor to support the renewal and recovery of the space underneath a busy transit bridge close to the city's shrimp market. The material used to restore this area, which will also improve mobility towards the pedestrian crossing in front of the Mercado del Marisco, includes a special professional architectural concrete, which offers among its many advantages improved safety by preventing the overlapping pieces from detaching, and durability in its final appearance. This material is part of a new line of architectural and decorative concretes that were recently launched in Panama.
Andres Jimenez, CEMEX Country President for Panama, expressed what an honor it is to collaborate with Panama City's Mayor on this project, which shares many of our corporate strategy's intrinsic values. "The municipality is encouraging the creation of a walkable city and this is key for developing sustainable cities. This agreement is precisely part of our effort to provide innovative and resilient solutions that contribute to generating wellbeing for the communities where we operate."
The area, which had previously been largely overlooked, is now a space allocated to collective use for the benefit of residents. The design, along with CEMEX's high-quality materials, supports improved accessibility for the community, from families with strollers to individuals in wheelchairs. Panamanian artist Rolando de Sedas, well known for his work adapted to urban settings, lent his talent to paint a mural on the walls so that residents can enjoy art within their own neighborhood and without the need to visit a museum or gallery.
For his part, Mayor Jose Isabel Blandon thanked the invaluable support CEMEX is providing in recovery efforts of municipally-developed public spaces. "We have several points in the capital city where viaducts or bridges like this are located, where the space below is gray, dark, abandoned. We want this space under the November 3 Viaduct to be the first example of what can be done when there is will and public-private partnerships," he added..
This agreement is just one example of how companies in the private sector can contribute to the growth and development of a country in collaboration with the community.
CEMEX is a global building materials company that provides high quality products and reliable service to customers and communities in more than 50 countries. Celebrating its 110th anniversary, CEMEX has a rich history of improving the well-being of those it serves through innovative building solutions, efficiency advancements, and efforts to promote a sustainable future.
CEMEX Latam Holdings Contact Information: