Media Center
Browse press releases, downloads, among other resources.
CEMEX supplies ready-mix concrete for Nicaragua's second International Airport's new runway
---
CEMEX is the sole ready-mix concrete provider for the fourth stage of the Puerto Cabezas or Bilwi International Airport, in the northern coastal region of Nicaragua. The company has supplied all of the ready-mix concrete for the new runway, which is the centerpiece of the US$50 million project.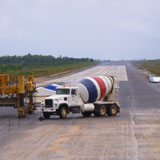 The runway will be 2,500 meters long by 45 meters wide and will have a thickness of 30 centimeters. In order to build this track, the contractor required a specialty concrete to suit all supporting steel bars (Dowel Bars) installed for the track thus ensuring its durability and performance.
CEMEX provided the solution by supplying hydraulic concrete which has an elastic and cohesive consistency, able to endure the toll from constant airplane landings, and that at the same time is easy to handle during pouring. This type of concrete will allow load transfer between the different slabs that form the track. CEMEX also installed a dedicated ready-mix concrete plant at the airport´s construction site and provided skilled technicians to meet the project's tight schedule.
"CEMEX is honored to be a part of this major project which will have a long-lasting positive effect on Nicaragua. CEMEX strives to deliver tailor-made products and services for major infrastructure projects worldwide, says Jesús González, CEMEX President for the Central American Region.
CEMEX aims to be the supplier of choice for major infrastructure projects in each of the countries where it operates. With the rebuilding of the Puerto Cabezas International Airport, the northern coastal zone of Nicaragua will be able to host all types of commercial and cargo planes. This will assist in the reactivation of the local economy by increasing commerce and tourism, as well as the creation of a significant number of jobs for the Bilwi area's residents.
CEMEX Latam Holdings Contact Information: