Media Center
Browse press releases, downloads, among other resources.
CEMEX donates water treatment plant for 3,800 people in the town of Payande, Colombia
---
CEMEX in Colombia has donated a water treatment plant that will improve the quality of life of 3,800 people in the town of Payande, near the capital city of Bogota. CEMEX led and sponsored the construction of the facility, which includes the plant infrastructure as well as the necessary water treatment tanks to comply with local health and safety standards.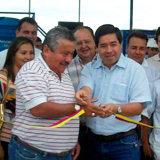 "With this donation, CEMEX is strengthening its ongoing commitment to fostering the development of the regions near its operations. In this case, we are helping a community to meet its water needs with an aqueduct system", says Mauricio Mantilla, Director of CEMEX's Caracolito Plant.
The new plant has a production capacity of 20 liters per second, and represents a major step forward for the public services in the area. The opening of the plant marks the first time the residents of Payande will have access to clean drinking water. The government's public works department will responsible for running and maintaining the facility.
"We thank CEMEX because of their generous work and commitment to converting undrinkable water into drinking water in our community. As mayor, I reiterate my heartfelt thanks and commitment to the efficient use of this water service," says Silverio Gongora, Mayor of San Luis.
At a global level, CEMEX seeks to ensure that it is a good neighbor and an active and positive part of every community in which it operates. To meet this objective the company develops strong long-term relationships with local community members, and contributes to socio-economic development.
CEMEX Latam Holdings Contact Information: