Media Center
Browse press releases, downloads, among other resources.
CEMEX Develops Special Ready-Mix Concrete for Colombia's Longest Bridge
---
CEMEX designed and delivered 100% of the ready-mix concrete for one of the most important infrastructure projects in Colombia. The country's longest bridge is a key element of four new alternative transportation routes that will benefit multiple sectors and make travel shorter in the Huila department.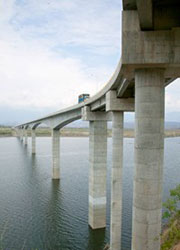 The El Quimbo Hydroelectric project in Colombia's Huila department is one of the most important ever undertaken in Colombia. It includes an environmental management plan that called for the repositioning of the physical infrastructure that was affected during the duration of construction. CEMEX supplied 100% of the ready-mix concrete for the development of these alternative routes, encompassing approximately 37,000 cubic meters (more than 48,000 cubic yards) of tailor-made ready-mix concrete and prefabricated concrete beams.
The four alternative routes, collectively 13 kilometers (roughly 8 miles) long, were comprised of nine bridges traversing mountainous land terrain and the Magdalena River. The tropical Huila state in southern Colombia experiences high year-round temperatures and is susceptible to the El Niño phenomenon. CEMEX's expertise came into play when it became clear that basic ready-mix concrete would not suffice for this project and that a specialized solution was required. After multiple tests, CEMEX developed a specialty high-strength ready-mix concrete that could sustain heavy loads and the effects of the Magdalena River.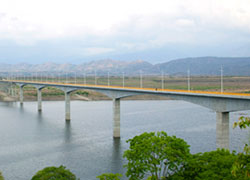 "The right formula with the specific qualities necessary for this project couldn't be achieved at just any plant or with just any aggregates or additives," said Carlos Jacks, Chief Executive Officer of CEMEX Latam Holdings. "Our ability to innovate is what differentiates us. It was through our innovation that we contributed to the construction of one of the most important infrastructure projects in Colombia."
"Our biggest challenge was time!" added Monica Polanco, Commercial Leader for CEMEX in Colombia supervising this project. "In order to satisfy the tight deadlines, the ready-mix concrete supplied was designed to have quick-drying qualities, drying in less than three hours." A temporary mobile plant was erected onsite for this project, and all prefabricated elements were cast in situ. Furthermore, due to the extreme heat in the region, each cubic meter of ready-mix concrete had to include more than 20 kilograms (roughly 44 pounds) of ice to control its temperature.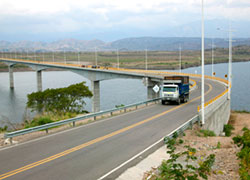 One of the key bridges, the El Balseadero Viaduct is 1.7 kilometers, or just over a mile, long—the longest bridge in Colombia today. The Republic of Colombia's President, Juan Manuel Santos, and the Vice President, Germán Vargas Lleras, attended the inauguration of the viaduct, highlighting its importance to the development of the region. The project has expedited the transport of merchandise between Colombia's central and southern regions, benefitting the agriculture, cattle, and shipping sectors, while fostering tourism in the Huila department.
The construction of these alternative routes represents a commitment to the community, and its benefits have merited a submission to the CEMEX Building Award in Colombia. According to Colombia's National Institute for Roads, these new routes benefit travelers because, by elevating the route over a bridge, they reduce angled curves of the original land routes. Aside from fulfilling an essential need, during construction, the new routes created 1,200 direct and more than 2,000 indirect jobs in the region.
CEMEX is a global building materials company that provides high quality products and reliable service to customers and communities in more than 50 countries. Celebrating its 110th anniversary, CEMEX has a rich history of improving the well-being of those it serves through innovative building solutions, efficiency advancements, and efforts to promote a sustainable future.
CEMEX Latam Holdings Contact Information: