Indigenous Community in Panama Drives Sustainable Tourism With Help From CEMEX
---
CEMEX collaborated with the Emberá of Tusipono community in the design and development of a nature trail to help generate income and foster environmental conservation.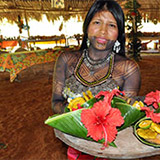 Tusipono is a community of the indigenous Emberá people near Panama's capital, at the point where the Chagres and Las Cascadas rivers converge. It is located within Chagres National Park, which, thanks to its proximity to Panama City, is the second most visited destination in the country after the Panama Canal. Tourists, mainly from Europe, the United States, Mexico, and Argentina, visit the community to learn the Emberá people's dances and traditions, enjoy their cuisine and appreciate their colorful hand-made crafts.
To support the community in their sustainable tourism program, CEMEX collaborated with the Emberá people to inaugurate the new Kewüará Nature Trail, which means toucan in the Emberá language. This trail offers visitors the opportunity to go hiking, bird watching, and learn more about the development of Lake Alajuela's ecotourism. This enables the community to generate income while maintaining their lifestyle and promoting environmental conservation.
To Helidoro Mecha, leader of the Emberá, this effort between his community, CEMEX, and Panamanian authorities represents the commitment that should enable the community to enjoy a better tomorrow.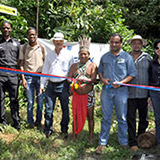 The new trail is a little over a half-mile long and traversed within 45 minutes to an hour and 15 minutes. During the hike, visitors can see birds like the jumping cabecirojo, blue dacnis and the tucancillo as well as native species of trees and a variety of flowers. The tour includes a visit to the Bonita waterfall and a reception in a community house to observe traditional dances and buy crafts.
In the opening ceremony, the Manager of the CEMEX Calzada Larga Plant, Olger Baquero said, "At CEMEX, we are very happy and grateful to the Tusipono community for allowing us to be part of this project, in which we contributed to the design and development of the path. We must continue working together to foster the sustainable development of tourism and participate in the development of this community."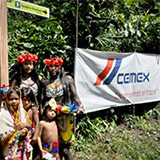 For his part, Samuel Valdés, Director of Protected Areas and Wildlife at Panama's Ministry of the Environment, concluded that good things happen when teams work together. "With teamwork between community, government and private enterprise we drive development. This new trail becomes a new attraction for this area, which we want to continue to promote with the development of the Port of Corotú."
CEMEX is a global building materials company that provides high quality products and reliable service to customers and communities in more than 50 countries. Celebrating its 110th anniversary, CEMEX has a rich history of improving the well-being of those it serves through innovative building solutions, efficiency advancements, and efforts to promote a sustainable future.
CEMEX Latam Holdings Contact Information: